Knock-Knock
An interactive installation by Bettina Bloc, Jesse Pearlman Karlsberg, Olivia Robinson, and Amy Scarfone
Knock-Knock at the Boston Cyberarts Festival
Interact with Knock-Knock at the Boston Cyberarts Festival at Kendall Square.
April 22-May 8, Mon-Sun 10 a.m.-7 p.m.
675 West Kendall St. in the Vertex Building at Kendall Square. Just off of Third St. Near the Kendall T stop. Follow the signs once on site.
For more info email Olivia or Jesse.
Boston Cyberarts at Kendall Square is made possible through the generous support of major sponsors Lyme Properties, Avid Technology, M-Audio (a part of Avid), and the Massachusetts Cultural Council.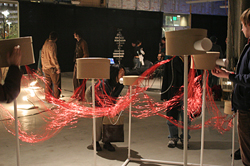 Press for Knock-Knock
The April 22 opening for Knock-Knock and the rest of the Boston Cyberarts at Kendall Square was wonderful. We've uploaded a set of photographs from the opening taken by Mark Karlsberg.
Boston publications wrote about Knock-Knock in the week leading up to its opening: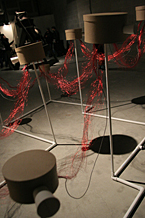 About Knock-Knock
Knock-Knock is an interactive installation evoking contemporary communications networks using cardboard and copper wire. This collaborative project is a network of suspended cardboard boxes, linked by contact microphones and drivers, transmitting sound across the box network through the cardboard filters. The contact microphones are precisely tuned so that tapped messages can travel short distances along the network or cycle around the ring, depending on the strength of the tap.
About the Artists
Bettina Bloc, Jesse Pearlman Karlsberg, Olivia Robinson, and Amy Scarfone are graduate students at Rensselaer Polytechnic Institute in the Integrated Electronic Arts and Language, Literature, and Communication programs. Their practice spans music, philosophy, electronics, landmarking, and rhetoric.
Bettina Bloc is a Latin American multi media artist whose work deals with the forgotten or suppressed histories of marginilized communities and finding ways to tell these stories. she is currently working on developing tools for dissent.
Jesse Pearlman Karlsberg is a sound artist whose work examines how power is embedded in physical space. He utilizes sound to render such powerdynamics audible and flexible. His work encompasses installation, music for live performance, audio tours, and works for radio. Information on his work is available on his web site, jpk.silversand.org.
Olivia Robinson is a multi-media artist creating works that merge the highly technical with the deeply personal using photography, multi-media and circuitry. Robinson holds a BFA degree from the Maryland Institute College of Art. While in Baltimore, she worked as a community artist-organizer, and as director and performer with Little Big Bang performance troupe. Her portfolio can be found at oliviarobinson.com.
Amy Scarfone is a doctoral student in Communication and Rhetoric. She studies the production, deconstruction, and inversion of rhetorical space through public memory. Amy has worked professionally as both an urban and interactive designer on a variety of projects ranging from large-scale master plans to Web-based interfaces. Amy's CV and portfolio can beaccessed from here: www.rpi.edu/~scarfa.